Results of investigations on macroscopic aquatic invertebrates
The effect of cyanide contamination on invertebrate fauna of the sediment has been investigated on the lower course of the Tisza during and after the contamination too. As a result of these investigations it could be stated, that on this course during the contamination period species of annelids (Oligochaeta) did not suffer damage. In contrast, larvae of midges (Chironomidae) were destroyed in a significant part. It has been observed too, that destruction kept on after the contamination went down. This has been confirmed both by laboratory and field investigations.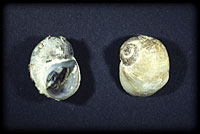 In the period following the cyanide contamination the investigation of macroscopic invertebrate communities of the sediment (macrozoobenthos) has happened more times in longitudinal sections of Tisza and Szamos. As a result of these investigations it can be stated, that cyanide contamination has influenced the communities of macrozoobenthos to a great extent. Most sensitive response was given by crustaceans (Crustacea). Among them a water flea species (Corophium curvispinum) is prominent with 50-60 % destruction. In case of larvae of midges (Chironomidae) also high some 50% mortality could be observed. Among the species of annelids (Oligochaeta) and phryganeans (Trichoptera) a small scale mortality could be experienced. In case of some groups (Ephemeroptera, Trichoptera, etc.) weakened physilac condition could be observed as well. After the cyanide contamination went down individuals of all groups living here before could be shown. Results show, that the major part of invertebrate fauna of the two rivers has survived cyanide contamination. Typical surviving organisms are riverine mollusks (Unio crassus, U. pictorum, U. tumidus), gravel snail (Litoglyphus naticoides), larvae of riverine dragonflies (Gomphus vulgatissimus, Platycnemis pennipes, Calopteryx splendens, Ophiogomphus cecilia, Stylurus flavipes), larvae of ephemerids (Heptagenia spp.) and those of day-fly (Palingenia longicauda) too.